Skwish for Playdate
Releasing my sales figures
---
On 23rd July 2022, I released my first paid game — Skwish for Playdate. It's a sokoban-style puzzle game with satisfying blob-based mechanics.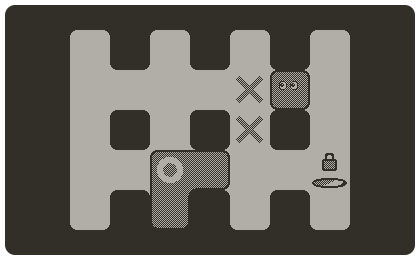 For the six month anniversary, here's a business-minded look back at the game's sales figures. I hope it's useful for anyone working on their own Playdate game and wondering what kinds of sales might be possible.
Background
I was lucky to be among the first people to receive my Playdate console in the post. It's a great piece of hardware with wonderful pack-in games, I was particularly excited about developing my own games for it using the free SDK.
Over the past couple of years, I'd been making games for the web, including a puzzle game called Skwish. After CoolMathGames.com contacted me about licensing Skwish, it occurred to me that it might be a good fit for the Playdate.
I knew I had a solid concept and a good selection of levels already designed. But for the Playdate port, I wanted to give it a premium feeling with lots of "juice", as well as a Baba Is You-style undo button.
A few Playdate developers had already begun charging for their games, in particular the $9.99 game Bloom, and the prospect of making some money from my own game was rather exciting — if only for the personal validation!
Marketing (or lack thereof)
Once the game seemed pretty close to completion, I picked a release date and opened preorders on itch.io along with a free demo — 40% off for the launch window). I then shared a brief gameplay gif on the Playdate Squad Discord (where I've since become a moderator) and on the Playdate subreddit.
What really helped drive traffic was Panic tweeting about the game on their official Playdate Twitter account and itch.io choosing to feature Skwish on their homepage. I had no hand in making either of these things happen, and I'm very thankful they did.
Within a few weeks, sales dropped off, but I was invited into the Playdate Community Bundle, which helped raise the game's profile further and sell a LOT more copies. Speaking of selling…
Let's Get to the Numbers
Ok, ok, here's the juicy bit. Over six months (plus a few days of preorders), I sold 591 individual copies, which represents approximately $2,300 in revenue (both full price and on discount). The average non-bundle price paid, factoring in sales and tips, was $4. My share of the Playdate community bundle, which sold 852 copies at a reduced price, came to almost exactly $2,000.
In total, that's around 1,400 copies sold and over $4,000 in total revenue. I don't get to keep all of that, of course. Some goes to choosh, who did the game's music and sound effects; some goes to Itch.io; and quite a bit goes to the payment processors. It's more money than I expected to make, but I won't be quitting my day job any time soon!
(I'm not sure how many people played the demo and then went on to purchase the game. Itch's analytics tell me it was downloaded 188 times, which doesn't sound right to me at all.)
As you can see from the chart below, sales dropped off very quickly before being boosted by the bundle.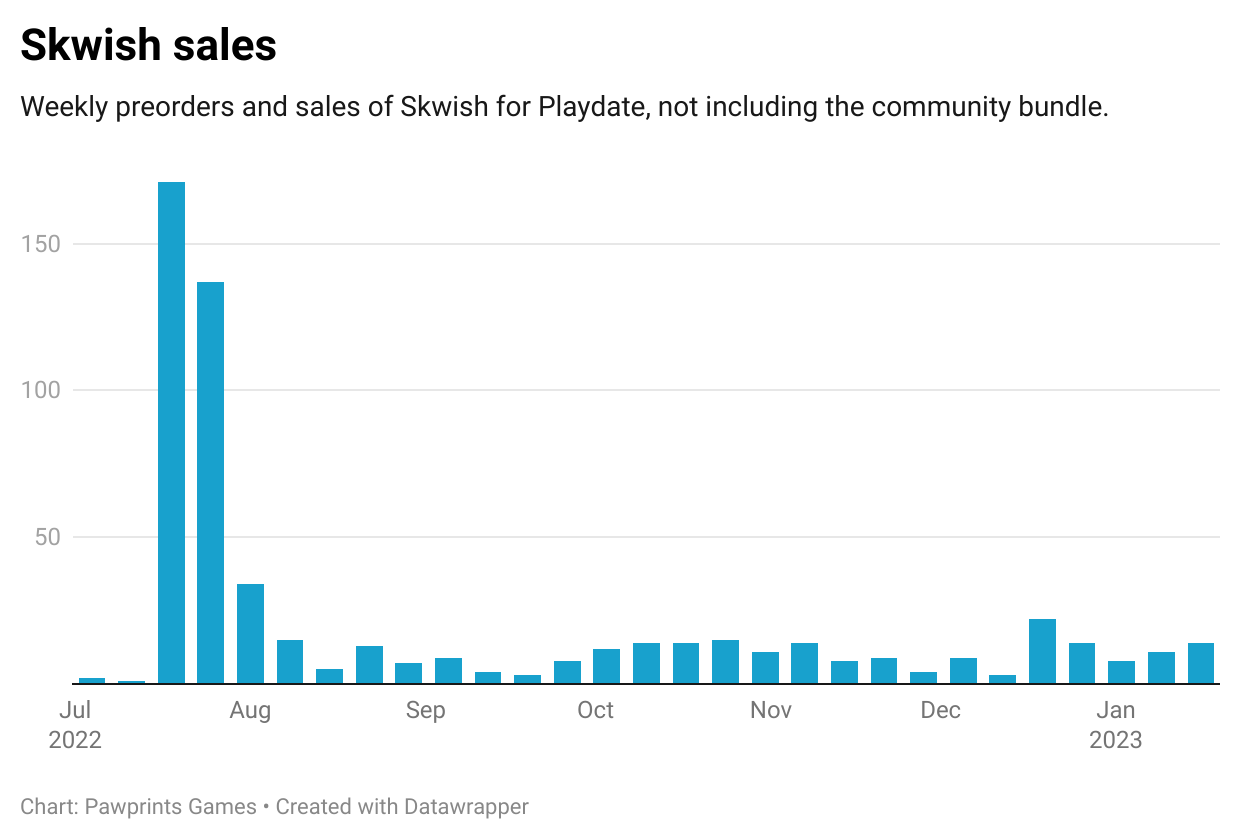 Being nominated for a Playdate Community Award was an incredible honour — but didn't move many new copies. Dropping the price to $4 for the Itch.io winter sale, on the other hand, gave it a small boost in late December.
Of course, it hardly needs stating that there is more to game development than just making money! But I think that it's awesome that Playdate owners value the time and effort that goes into making games.
Inside the Bundle
I was more of a passenger when it came to the community bundle, but I'm glad I signed on. The idea was to curate a 'community season' of sorts, to encourage more Playdate owners to sideload games.
As I mentioned above, it sold 852 copies in total, with most happening within a few hours of launching and a few small bumps along the way. At the time of the bundle, there were around 20,000 Playdates in the wild – which equates to a 4.2% attachment rate.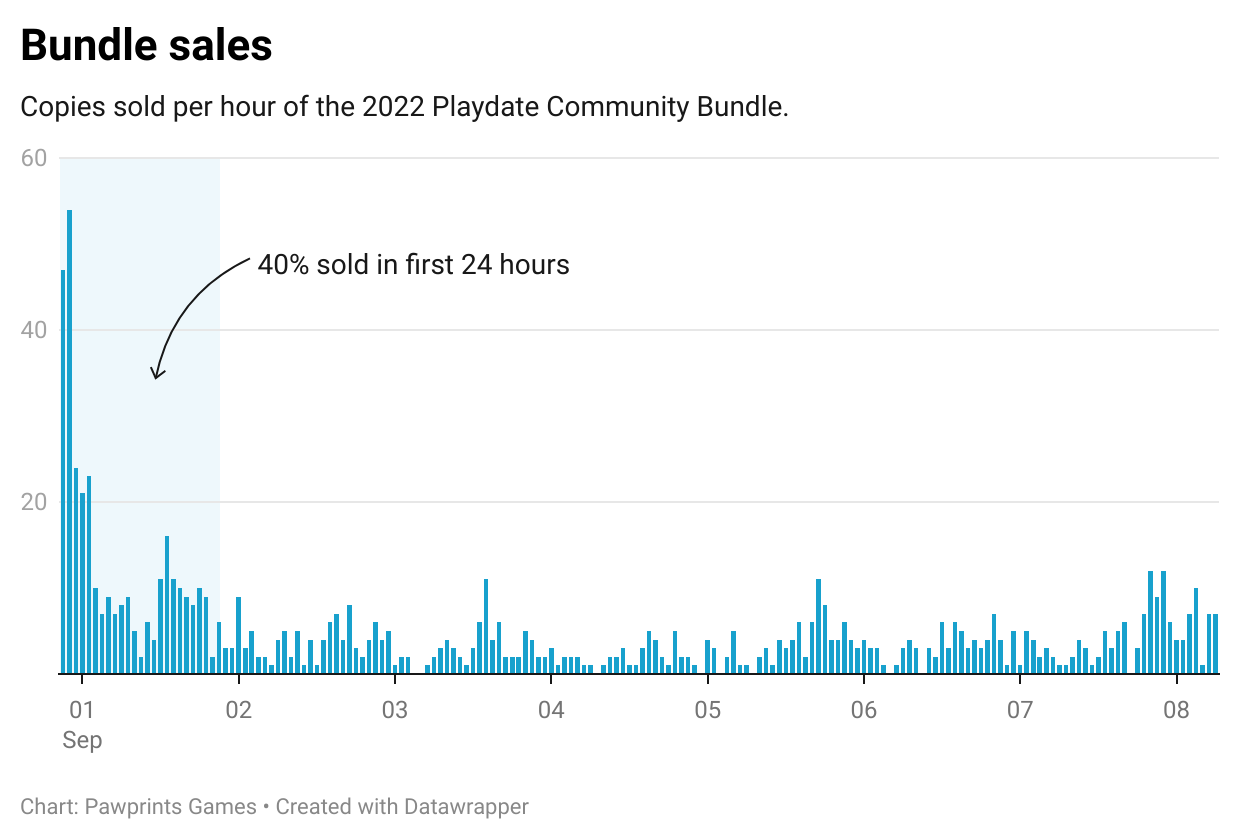 Either way, I think we achieved our goal: I heard anecdotally from Playdate devs outside the bundle that they also saw also sales increases during this period. A rising tide lifts all boats!
The Next Six Months
What's next for me? I'd love to get Skwish listed in the Playdate's on-device store Catalogue, whenever that launches. Besides that I have no plans to work on the game further.
I'm moving on to a bunch of other game ideas I'm keen to explore, including further chapters of Cat World (chapter two is realllllly close to done); maybe a 2D adventure-platformer; or a rhythm-action game! Who knows if any of them will be as popular as Skwish, but I promise to put in at least as much care and attention as this fun little puzzle game.